Catalog filters allow your customers better control over the results that are displayed on your catalog pages. By providing categories and tags under those categories, your customers will be able to narrow their results down to the products that are most relevant for them. If your catalog page is not set to hide item prices, customers will also be able to filter by price.
Catalog filters also let you create pre-filtered catalog pages, allowing you to display products filtered by a certain criteria automatically.
Setting Up Catalog Filters
1. Create a new Catalog page (Edit Site > Add Page) or edit one of your existing Catalog pages (Edit Site > My Pages).
2. Click 'Catalog Filter'.
3. To enable filters for this catalog, click the 'Enable Filters' checkbox.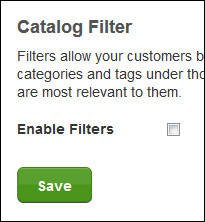 4. Choose your filter layout. You can display the filter toolbar above, to the left, or to the right of the products on your Catalog page.
5. Create a new category by typing in the category name and clicking the 'Add' button. To delete a tag, click the 'x' next to the tag.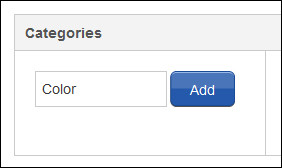 6. To add tags to a category, select the category and click 'Add or Edit Tags'. In the field to the right, enter a tag name and click 'Add Tag'.

7. To change the order in which your categories are displayed in the filter toolbar, click and drag on the arrows next to each tag on the list. You can reposition tags to be displayed in any order you like.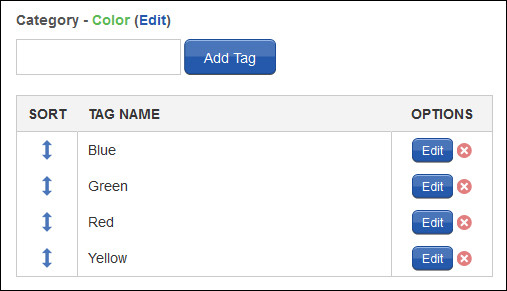 Setting Up Filter Pages
1. To set up a new Filter Page, click 'Add Filtered Page'.
2. In the pop-up window, give the filtered page a name and a URL. You can then choose tag criteria for the filter, as well as filtering by price. For example, if you filter by a tag 'Blue', the filtered page will only shows products that are tagged with 'Blue'.
3. Click 'Save' to create the filtered page. The page will now show up among the list on My Pages, and can be sorted in your menu on the Organize Menu page. To learn to how to change the order of the pages in your menu, including filtered catalog pages, click here.
Adding Tags To Products
1. Create a new product or edit an existing product in a catalog you have filters enabled for.
2. Scroll down to the 'Catalog Filter Tags' section. If you do not see this section, you first need to set up filters for this catalog. See the Setting Up Catalog Filters section above.

3. To add a tag, click the 'Add Tag' dropdown box and check the tags that are applicable to this product. To delete a tag once it has been added, simply click the 'x' next to the tag.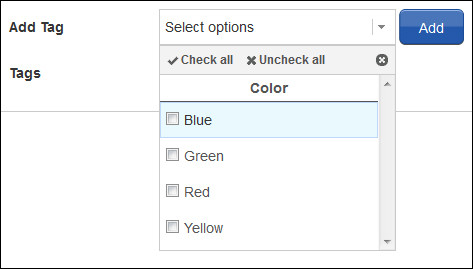 4. Your customers will now be able to filter your products by tag, allowing them to find exactly what they are looking for. The tags will also be displayed on the product page.