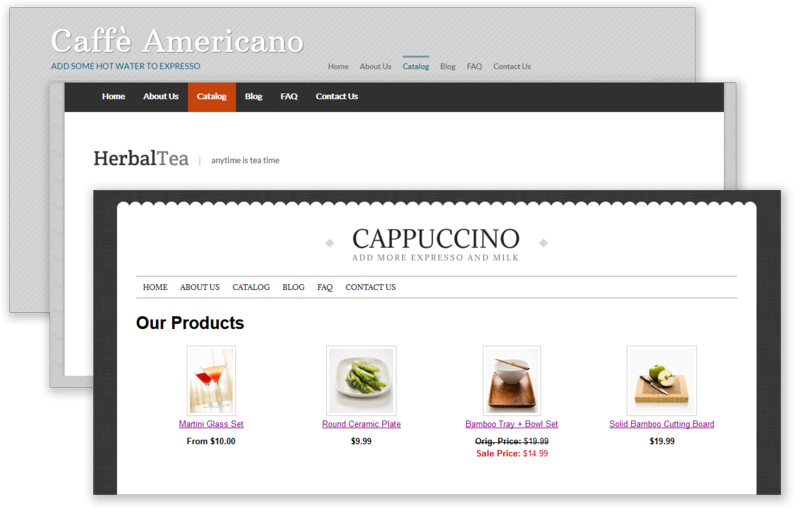 The Enhanced Template System provides new modern-look templates built completely in HTML5. They're simpler to manage than our standard templates, and are integrated with PicMonkey for creating header images and modifying graphical website elements right in your browser. For advanced users, the Enhanced templates allow direct modification of the template's CSS, giving you tremendous flexibility to create a site that looks exactly how you want.
Switching to an Enhanced Template
Before switching templates, you can take advantage of our Previous Versions feature to ensure your old template is backed up in case you want to switch back. Navigate to 'Edit Site' > 'Design' > 'Previous Versions.' If you don't see your current template backed up, click 'Edit Current Template.' Once you see the preview screenshot generated below your template options, your template will be backed up automatically.
To switch to an Enhanced template, click 'Choose a Template.' Enhanced templates are marked with the appropriate ribbon. Click on a template to see a preview, and click 'Apply Design' to overwrite your existing template.
Depending on the template, you'll be presented different options to modify your template. Each template is different, so the modifiable aspects may vary from template to template. To apply changes, click 'Save.'

PicMonkey
PicMonkey is a great tool for modifying images, like your website header, right in your browser. You can edit the existing file by clicking 'Edit With PicMonkey', or start fresh by clicking 'Create From Blank.'
Editing an image with PicMonkey will open a new window or tab in your browser. If your browser is not respoding when you click 'Edit With PicMonkey' or 'Create From Blank', check to ensure your browser is not blocking new window.
Within PicMonkey, you have access to many different tools to create or modify your image. To add your logo or an image from your computer, click the 'Overlays' button in the menu on the left, then click 'Your Own' to select an image from your computer.
When you're finished editing an image in PicMonkey, click 'Save.' In the dialog that pops up, click 'Yes!'
Advanced Options
For CSS-savvy users, the 'Advanced Options' link will open an additional panel that allows you to modify the template's CSS directly. You can also modify individual template assets (such as the menu and body backgrounds and navigation buttons) using PicMonkey, as well as upload your own image assets (JPG, JPEG, GIF and PNG only).